Blood orange, fennel and chicken salad
Blood orange, fennel and chicken salad
Prep 20 mins | Cook 15 mins | Serves 4
2 cups chicken stock
500g small chicken breast fillets
5 large blood oranges
2 baby fennel, trimmed and very thinly sliced
1⁄2 small red onion, very thinly sliced
100g baby Asian salad leaves
2 tbs extra virgin olive oil
1 tbs white wine vinegar
Step 1 Bring stock to the boil over medium high heat in a medium frying pan. Reduce heat, cover and simmer for 12–15 minutes until just cooked through. Remove chicken to a plate and set aside to cool.
Step 2 Meanwhile, peel and remove all white pith from 4 blood oranges. Thinly slice into rounds. Arrange blood oranges on serving plates or a platter. Combine fennel, red onion and salad leaves in a bowl.
Step 3 To make dressing, juice remaining blood orange to yield 1⁄4 cup juice. Place juice, oil, vinegar and salt and pepper in a screw top jar. Shake to combine.
Step 4 Shred chicken and add to fennel mixture. Drizzle with dressing and gently toss to combine. Arrange salad on blood oranges and serve.
Good for you ...
Blood Oranges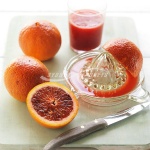 Blood oranges have higher levels of beta carotene that other oranges and this contributes beta carotene which will be converted to vitamin A in the body. Vitamin A is needed for normal vision.