Berry Eton mess
Prep 20 mins + standing time | Serves 6
Quick, easy and simply delicious, this dessert is perfect for any occasion.
250g strawberries, hulled and chopped
2 tbs icing sugar
300ml carton thickened cream
1 cup thick vanilla bean yoghurt
2 (about 100g) large meringues (from a bakery)
125g raspberries
125g blueberries
Step 1 Place strawberries into a bowl. Sprinkle with 1 tbs icing sugar and set aside for 20 minutes.
Step 2 Whip cream and remaining 1 tbs icing sugar in a bowl until soft peaks form. Fold through yoghurt.
Step 3 Using a fork, roughly mash strawberries. Gently fold strawberries and meringues through cream mixture. Stir through raspberries and blueberries. Spoon into serving glasses and serve.
Good for you ...
Strawberries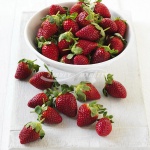 A good source of vitamin C which contributes to formation of collagen and thus plays a role in healthy gums, teeth, bones, cartilage and skin.
A source of folate, a B vitamin needed for normal blood formation.
Provide dietary fibre, which is important for the normal functioning of the intestine.
Also contain lutein, one of the carotenoid family that is involved in normal eye health.