Berry, chocolate & yoghurt ice-cream cake
Berry, chocolate & yoghurt ice-cream cake
Prep 30 mins + overnight freezing | Serves 8-10
2 litres vanilla ice-cream
250g strawberries, hulled and diced
125g blueberries
250g raspberries
500g Greek-style natural yoghurt
200g hazelnut milk chocolate block, roughly chopped
Extra fresh berries, to serve
Step 1 Line the base and sides of a 23cm spring-form pan with baking paper. Remove ice-cream from the freezer and stand at room temperature to soften.
Step 2 Meanwhile, place all the berries into a bowl and gently toss to combine. Stand for 10 minutes.
Step 3 Place softened ice-cream into a large mixing bowl. Add yoghurt. Using a large metal spoon, gently stir to combine. Reserve 1 cup berries. Add remaining berries to the ice-cream mixture. Add chocolate and stir until well combined. Spoon mixture into prepared pan and flatten the top. Scatter the top with reserved berries. Cover with plastic wrap and freeze overnight.
Step 4 To serve, remove cake from the freezer and stand for 5 minutes. Transfer to a serving plate. Scatter with a few extra fresh berries and serve.
Good for you ...
Raspberries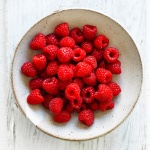 A very good source of dietary fibre which helps keep the intestine functioning normally.
A source of folate, a B vitamin needed for normal blood formation.
A very good source of vitamin C which contributes to the normal functioning of the body's immune system.
Provide some folate (important for heart health) and small quantities of vitamin E which is important for keeping red blood cells healthy