Berry & ricotta tiramisu pudding
Berry & ricotta tiramisu pudding
Prep 30 mins + chilling time | Serves 6-8
1⁄2 cup thick Greek-style yoghurt
125g mascarpone
400g ricotta cheese
1⁄3 cup icing sugar + 1 tbs extra
2 tsp vanilla extract
1 cup strong black espresso coffee
1⁄4 cup Tia Maria liqueur (or similar)
14 sponge finger biscuits
30g bar flaked chocolate
300g blueberries
250g strawberries, hulled and quartered lengthways
Step 1 Place yoghurt, mascarpone, ricotta, 1⁄3 cup icing sugar and vanilla in a bowl. Beat until very smooth.
Step 2 Combine coffee, 1 tbs icing sugar and liqueur in a shallow dish. Dip each sponge finger into the coffee mixture for about 5 seconds each side and use to line the base of a shallow 8-cup (base about 26cm x 17cm) ceramic or glass dish. Sprinkle with flaked chocolate. Top with ricotta mixture and smooth top. Sprinkle with berries, cover and chill for 5 hours or overnight. Spoon into serving bowls and serve.
Good for you ...
Blueberries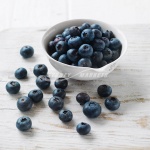 A good source of vitamin C which contributes to the normal functioning of the body's immune system.
Provide vitamin E, an antioxidant vitamin that helps protect cells from damage due to free radicals.
A source of dietary fibre, which is important for the normal functioning of the intestine.
The natural purple pigments are antioxidants and may boost the body's level of these compounds.