Berries with coconut nougat meringues
Berries with coconut nougat meringues
Prep 30 mins | Cook 1 hr 30 mins + cooling time | Serves 6
If preferred, for ease buy meringues instead of making the coconut nougat meringues.
4 free range egg whites (at room temperature)
Pinch cream of tartar
1 cup caster sugar
3⁄4 cup desiccated coconut
To serve
300ml thickened cream
2 tbs icing sugar
500g strawberries, hulled and sliced
150g blueberries
STEP 1 Preheat oven to 100°C/80°C fan-forced. Line 2 baking trays with baking paper.
STEP 2 Using an electric mixer, whisk the egg whites and cream of tartar until soft peaks form. Add caster sugar, 1 tbs at a time, mixing well after each addition. Whisk until mixture is thick and glossy. Using a large metal spoon, gently fold through coconut. Evenly spoon meringue mixture onto baking trays to form 6 meringues. Bake for 11⁄2 hours or until crisp to touch. Turn oven off, leave door ajar and cool meringues in the oven.
STEP 3 Just before serving, whip cream and 1 tbs icing sugar in a bowl until soft peaks form. Combine strawberries, blueberries and remaining 1 tbs icing sugar in another bowl. Toss to combine. Cover each and refrigerate for 15 minutes.
STEP 4 To serve, place meringues onto serving plates, top each with whipped cream and berries and serve.
Good for you ...
Strawberries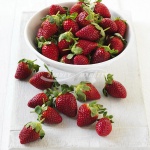 A good source of vitamin C which contributes to formation of collagen and thus plays a role in healthy gums, teeth, bones, cartilage and skin.
A source of folate, a B vitamin needed for normal blood formation.
Provide dietary fibre, which is important for the normal functioning of the intestine.
Also contain lutein, one of the carotenoid family that is involved in normal eye health.