Beetroot, spinach & goat's cheese salad
Beetroot, spinach & goat's cheese salad
Prep 20 mins | Cook 55 mins | Serves 4
If preferred, use feta instead of goat's cheese.
4 large (about 180g each) beetroot, washed and dried
1⁄3 cup olive oil
1⁄3 cup walnuts, roughly chopped
2 tbs balsamic vinegar
1⁄2 tsp caster sugar
75g mixed baby salad leaves
150g soft goat's cheese, crumbled
Step 1 Trim beetroot stems, leaving 5-6cm stem attached to each beet. Place beets into a medium saucepan and cover with cold water. Bring to the boil over medium-high heat. Reduce heat to medium, partially cover and cook for 45-50 minutes until just tender. Drain and set aside to cool. Wearing rubber gloves, peel beets and cut into wedges. Set aside.
Step 2 Heat 1 tbs oil in a small frying pan over medium heat. Add walnuts and cook, tossing often, for 2 minutes until golden. Transfer to a plate.
Step 3 To make dressing, combine remaining 1⁄4 cup olive oil, balsamic vinegar, sugar and salt and pepper in a screw-top jar. Shake well to combine.
Step 4 Arrange beetroot, salad leaves, goat's cheese and walnuts on a serving platter or plates. Drizzle with the dressing and serve.
Good for you ...
Red Beetroot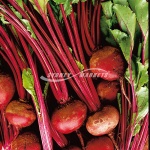 A good source of folate, a B vitamin that contributes to normal growth and development in children as well as the formation of blood cells. One medium beetroot provides about half an average adult's recommended dietary intake of folate.
The purple pigments in beetroot, known as anthocyanins may act as antioxidants.
Provide dietary fibre, needed for a healthy digestive system.