Bean, cabbage & tofu salad with chilli dressing
Bean, cabbage & tofu salad with chilli dressing
Prep 30 mins | Cook 3 mins | Serves 4
150g green beans, trimmed
1⁄2 small Chinese cabbage, trimmed and shredded
2 Lebanese cucumbers, halved and cut into thin strips
4 green onions (shallots), trimmed and thinly sliced
1 cup bean sprouts, trimmed
200g fresh Thai-flavoured tofu, drained and cut into cubes
1⁄3 cup roasted peanuts, chopped
Lime wedges, to serve
Chilli Dressing
1⁄4 cup lime juice
2 tbs grape seed or peanut oil
1 tbs salt reduced soy sauce
2 tbs brown sugar
2-3 small red birds eye chillies (to taste), deseeded and thinly sliced
Step 1 Plunge beans into a small saucepan of boiling water and cook over high heat for 2-3 minutes until just tender. Drain and refresh in cold water. Pat dry with paper towel.
Step 2 Place beans, cabbage, cucumbers, green onions, bean sprouts and tofu into a large bowl.
Step 3 To make chilli dressing, combine lime juice, oil, soy sauce and brown sugar in a screw-top jar. Shake until very well combined. Stir in chillies. Drizzle dressing over salad and add peanuts. Gently toss to combine. Spoon into serving bowls and serve with lime wedges.
Good for you ...
Chinese Cabbage (Wombok)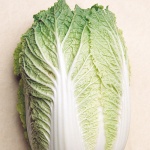 Chinese cabbage is a good source of folate, a B vitamin that is needed for normal cell division and growth and development in children.
A good source of vitamin C, which contributes to reducing tiredness.