Bean, asparagus & tofu with pork
Bean, asparagus & tofu with pork
Prep 25 mins | Cook 25 mins | Serves 4
1 tbs peanut oil
1 leek, trimmed, halved lengthways, washed and thinly sliced
1 long red chilli, seeded, thinly sliced
500g pork mince
200g green beans, trimmed and cut into 3cm pieces
1 bunch asparagus, trimmed and cut into 3cm pieces
2 tbs black bean garlic sauce
1 cup cold water
300g packet firm tofu, drained and cut into 2cm pieces
1 tbs light soy sauce
1 tbs shao hsing* cooking wine
3 tsp caster sugar
Thinly sliced green onion (shallot), sliced red chilli and
steamed jasmine rice, to serve
*Shao Hsing is a Chinese cooking wine available in Asian grocers and the Asian aisle in supermarkets. Alternatively, use dry sherry or stock.
STEP 1 Heat oil in a wok over medium heat. Add leek and chilli, stir-fry for 2-3 minutes until tender. Increase heat to high, add pork, stir-fry for 3 minutes, breaking up mince, until evenly browned. Stir in beans, asparagus, black bean sauce and water. Reduce heat to medium and simmer, stirring occasionally, for 12-15 minutes until water has reduced.
STEP 2 Add tofu, soy sauce, shao hsing wine and sugar. Gently stir-fry for 2-3 minutes until hot. Serve with green onion, chilli and rice.
Good for you ...
Green Asparagus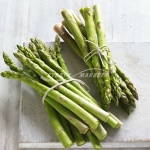 One of the best sources of natural folate. This B complex vitamin is important throughout life for normal function of the immune system. A source of vitamin C which contributes to protecting body cells from damage from free radicals.