BBQ tomato & goat's cheese bruschetta
BBQ tomato & goat's cheese bruschetta
Prep 15 mins | Cook 10 mins | Serves 4
You'll need 6 small bamboo skewers for this recipe.
2 x 250g stems ripe truss, mini roma or cherry tomatoes
Olive oil cooking spray
6 slices ciabata or sourdough bread
2 garlic cloves, halved
150g marinated goat's feta, drained
Extra virgin olive oil, for drizzling
Small basil leaves, to serve
Step 1 Soak 6 small bamboo skewers in cold water for 5 minutes then drain. Cut each tomato from the central stem. Thread tomatoes onto bamboo skewers. Liberally spray with oil. Spray bread on both sides with oil and rub both sides with cut-side of garlic.
Step 2 Preheat a greased char-grill pan or barbecue on medium-high heat. Cook tomato skewers, turning often, for 4-5 minutes until tender and juicy. Cook bread for 1-2 minutes on each side until golden.
Step 3 To serve, spread bread with feta and top with tomatoes. Season with salt and pepper and drizzle with extra virgin olive oil. Sprinkle with basil leaves and serve.
Good for you ...
Truss Tomatoes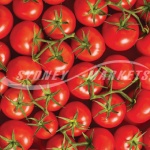 A very good source of vitamin C which contributes to the normal functioning of the body's immune system.
Provides potassium which may help balance the sodium from salt.
A source of dietary fibre which helps the normal function of the intestine.
Tomatoes are the richest food source of lycopene, a member of the carotenoid family. Research suggests that lycopene may play a role in the normal health of the prostate gland. The redder the tomato, the higher its lycopene content. Rich red tomatoes are also a source of beta carotene which is converted into vitamin A in the body and is needed for vision.