BBQ mushrooms with goat's cheese, basil & tomatoes
BBQ mushrooms with goat's cheese, basil & tomatoes
Preparation 15 mins | Cooking 8 mins | Serves 4-6
2 tbs caramelised balsamic glaze + extra to serve
¼ cup extra virgin olive oil
2 garlic cloves, finely grated
8 (about 100g each) flat mushrooms
150g soft goat's cheese, roughly crumbled
3-4 small heirloom tomatoes or egg (Roma) tomatoes, sliced
extra virgin olive oil for drizzling and basil leaves, to serve
Step 1 Combine balsamic glaze, oil and garlic in a small bowl. Season with salt and pepper. Brush mushrooms on both sides with mixture.
Step 2 Preheat a greased barbecue or char-grill pan over medium-high heat. Barbecue or char-grill mushrooms, open side down, for 3 minutes. Turn and brush with remaining oil mixture. Reduce heat to medium and barbecue or char-grill for 4-5 minutes or until just tender. Transfer mushrooms to a tray. Set aside to cool slightly.
Step 3 Top mushrooms with goat's cheese and tomatoes. Drizzle with extra virgin olive oil and pan juices. Scatter with basil leaves and serve.
Good for you ...
Medley Tomatoes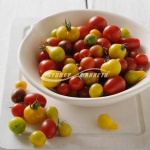 A very good source of vitamin C which contributes to the normal functioning of the body's immune system.
Provides potassium which may help balance the sodium from salt.
A source of dietary fibre which helps the normal function of the intestine.
Tomatoes are the richest food source of lycopene, a member of the carotenoid family. Research suggests that lycopene may play a role in the normal health of the prostate gland. The redder the tomato, the higher its lycopene content. Rich red tomatoes are also a source of beta carotene which is converted into vitamin A in the body and is needed for vision.