BBQ garlic & cheese pizzas with tomato & avocado
BBQ garlic & cheese pizzas with tomato & avocado
Prep 15 min | Cook 15 min | Serves 4
If you prefer, you can bake the pizzas in a 220°C/200°C fan-forced preheated oven for 12–15 minutes.
4 small (about 22cm) fresh pizza bases
1⁄4 cup olive oil
2 garlic cloves, finely chopped
1⁄3 cup finely grated parmesan cheese
1 ripe avocado
1 tbs lemon juice
250g cherry tomatoes, thick sliced
25g baby spinach leaves
Reduced-fat hummus dip, to serve
Step 1 Preheat a barbecue on medium heat. Brush pizza bases with oil. Sprinkle with garlic and parmesan. Place on foil trays or pizza stones and barbecue, covered, for 12–15 minutes until crisp.
Step 2 Meanwhile, peel, dice and toss avocado with lemon juice. Top pizza bases with tomatoes and avocado. Sprinkle each with spinach leaves. Serve with hummus dip.
Good for you ...
Avocados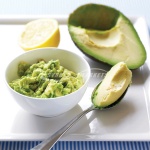 Avocados are one of the few fruits that contain fat, but it's in the form of unsaturated fat.
A source of vitamin E, a vitamin that helps protect cells from damage due to free radicals.
A good source of vitamin C and also a source of folate (a B vitamin). Both these vitamins contribute to the normal functioning of the body's immune system.
Provides the B vitamins niacin (B3) and biotin, which both contribute to normal production of energy in the body.