BBQ eggplant with minted yoghurt & pomegranate
BBQ eggplant with minted yoghurt & pomegranate
Prep 20 mins | Cook 15 mins | Serves 6
This fabulous dish teams well with barbecued lamb, chicken or fish. If preferred, use an electric hand blender to make the minted yoghurt, it will give the mixture a lovely smooth texture.
1⁄2 cup thick natural yoghurt
1 cup mint leaves, finely chopped
1 tbs lemon juice
3 medium (about 1.2kg) plump eggplants, trimmed
Olive oil spray
1 green onion (shallot), very thinly sliced
1⁄2 small pomegranate, seeds removed
Extra mint leaves to serve
Step 1 To make minted yoghurt, combine yoghurt, mint, lemon juice and salt and pepper to taste in a bowl. Stir until smooth. Set aside for flavours to develop.
Step 2 Preheat a barbecue grill or char-grill on medium-high heat. Cut eggplant lengthways into 1cm thick slices. Liberally spray on each side with oil and season with salt and pepper. Barbecue or char-grill eggplant, in batches, for 2–3 minutes on each side or until golden and tender. Transfer to a large serving plate.
Step 3 Drizzle eggplant with minted yoghurt. Sprinkle with green onions, pomegranate seeds and mint leaves. Season with pepper to taste and serve.
Good for you ...
Eggplant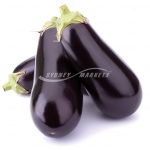 A good source of dietary fibre, which contributes to normal bowel function.
A good source of vitamin B6 that plays a role in hundreds of biochemical reactions in the body, including contributing to energy metabolism.
The purple skin is a rich source of antioxidants