Basil, spinach & olive pesto, ricotta & tomato bruschetta
Basil, spinach & olive pesto, ricotta & tomato bruschetta
Prep 20 mins | Cook 5 mins | Makes 8
8 slices soy & linseed sourdough bread
Olive oil spray
3 garlic cloves, halved lengthways
350g fresh ricotta
400g mixed tomatoes, sliced
Small basil leaves or micro-cress, to serve (optional)
Basil, spinach & olive pesto:
½ cup basil leaves
½ cup baby spinach leaves
2 tbs toasted pine nuts
1/3 cup green (Sicilian) olives, flesh chopped (discard seeds)
1 garlic clove, minced
1/3 cup extra virgin olive oil
Step 1 To make the basil, spinach & olive pesto, combine basil, spinach, pine nuts, olives and garlic in a food processor. Pulse until evenly chopped. While the motor is running, gradually add oil and process until well combined. Season with salt and pepper to taste. Set aside.
Step 2 Preheat a char-grill pan over high heat. Spray the sourdough bread on both sides with oil. Rub with the cut-side of the garlic. Char-grill bread for 2-3 minutes on each side or until golden. Top toast with ricotta and tomatoes. Drizzle with the pesto. Scatter with basil leaves or micro-cress if liked and serve.
Note: Store any leftover pesto in an airtight container in the fridge and use within 5 days.
Good for you ...
Tomatoes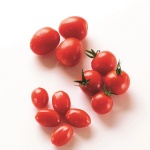 A very good source of vitamin C which contributes to the normal functioning of the body's immune system.
Provides potassium which may help balance the sodium from salt.
A source of dietary fibre which helps the normal function of the intestine.
Tomatoes are the richest food source of lycopene, a member of the carotenoid family. Research suggests that lycopene may play a role in the normal health of the prostate gland. The redder the tomato, the higher its lycopene content. Rich red tomatoes are also a source of beta carotene which is converted into vitamin A in the body and is needed for vision.