Bananas with salted caramel fudge sauce
Bananas with salted caramel fudge sauce
Prep 10 mins | Cook 8 mins | Serves 4
This salted caramel fudge sauce is also delicious served with stewed apples or pears.
Salted caramel fudge sauce
75g unsalted butter, chopped
1⁄2 cup brown sugar
1⁄4 cup golden syrup
1⁄2 cup cream
1 tsp sea salt
To serve
4 ripe Lady Finger bananas
1⁄4 cup walnuts, toasted
Step 1 To make salted caramel fudge sauce, combine butter, sugar, golden syrup and cream in a small heavy-based saucepan. Stir over medium heat until butter melts and mixture is smooth. Reduce heat to medium-low and simmer, stirring occasionally, for 4 minutes. Stir in salt. Remove from heat and cool for 20 minutes.
Step 2 To serve, peel and slice bananas and arrange in serving glasses or bowls. Drizzle with warm salted caramel fudge sauce, sprinkle with walnuts and serve.
Good for you ...
Bananas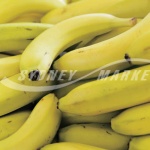 A good source of vitamins B6 and folate. Vitamin B6 is needed for the body's nervous system and folate is important for making red blood cells. A source of antioxidant vitamins E and C (vitamin C also helps protect us against infection). A good source of dietary fibre and also provides potassium.