Banana, lime & coconut cake
Banana, lime & coconut cake
Prep 20 mins + cooling time | Cook 50 mins | Serves 8
2 free-range eggs
Finely grated zest of 1 lime
1 tbs lime juice
½ cup buttermilk
1½ cups very ripe mashed bananas (about 3 large bananas)
175g butter, chopped and at room temperature
1½ cups caster sugar
2 cups self-raising flour
½ tsp bicarbonate of soda
1/3 cup shredded coconut
2 passionfruit, pulp removed, to serve
2 tbs toasted shredded coconut, to serve
Cream cheese frosting:
1/3 cup reduced fat spreadable cream cheese
2 cups icing sugar mixture
¼ tsp vanilla extract
Step 1 Preheat oven to 180°C/160°C fan-forced. Grease and line a 23cm spring-form pan with baking paper.
Step 2 Combine eggs, lime zest, lime juice, buttermilk and mashed bananas in a large jug. Mix until well combined. Set aside.
Step 3 Using an electric mixer, beat butter and sugar together until light and creamy. Add banana mixture, beat on low until well combined. Sift over the flour and bicarbonate of soda. Add shredded coconut. Using a large metal spoon fold until just combined. Spoon mixture into prepared pan and bake for 50-55 minutes or until golden and a skewer inserted in the centre comes out clean. Cool in pan for 5 minutes then transfer to a wire rack to cool completely.
Step 4 Once cake is cool, spread with cream cheese frosting. Drizzle with passionfruit pulp and sprinkle with toasted shredded coconut. Slice and serve. To make cream cheese frosting: Using electric hand-beaters, beat cream cheese, icing sugar and vanilla in a large bowl until smooth. Chill until the cake is cooled.
Good for you ...
Bananas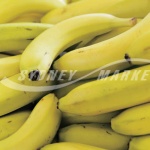 A good source of vitamins B6 and folate. Vitamin B6 is needed for the body's nervous system and folate is important for making red blood cells. A source of antioxidant vitamins E and C (vitamin C also helps protect us against infection). A good source of dietary fibre and also provides potassium.