Banana & strawberry butterfly cupcakes
Banana & strawberry butterfly cupcakes
Prep 30 mins | Cook 20 mins | Makes 12
125g butter, softened
3/4 cup caster sugar
1 tsp vanilla extract
2 free range eggs
1 cup mashed very ripe banana (about 3 bananas)
1½ cups self-raising flour
½ tsp bi-carbonate of soda
1/3 cup milk
Topping:
250g spreadable cream cheese
1 cup icing sugar mixture + extra for dusting
12 plump strawberries, hulled and halved lengthways
Step 1 Preheat oven to 180°C/160°C fan-forced. Line a 12 hole x 1/2 cup capacity muffin pan with paper patty cases.
Step 2 Using electric beaters, beat butter, sugar and vanilla in a large bowl until light and fluffy. Beat in the eggs, one at a time, beating well after each addition. Add mashed banana and beat until well combined.
Step 3 Sift flour and bi-carbonate of soda over the banana mixture. Add milk. Using a large metal spoon, gently stir until combined. Spoon evenly into prepared pans. Bake for 18-20 minutes until golden and cooked through when tested with a skewer. Cool in pans for 5 minutes, then turn out onto a rack to cool.
Step 4 To make the topping, combine cream cheese and icing sugar in a bowl and beat until well combined. Top each cake with a dollop of cream cheese mixture. Decorate with strawberries and serve.
Good for you ...
Strawberries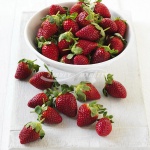 A good source of vitamin C which contributes to formation of collagen and thus plays a role in healthy gums, teeth, bones, cartilage and skin.
A source of folate, a B vitamin needed for normal blood formation.
Provide dietary fibre, which is important for the normal functioning of the intestine.
Also contain lutein, one of the carotenoid family that is involved in normal eye health.