Banana & caramel tart
Prep 40 mins + overnight chilling time | Cook 3 hrs | Serves 8
395g can sweetened condensed milk
250g granita biscuits
150g butter, melted
4 just-ripe bananas, thinly sliced
½ tsp sea salt
60g dark chocolate, melted, for drizzling
Whipped cream, for serving
Step 1 The day before the tart is required; to make caramel (sometimes called dulce de leche), remove label and place sealed condensed milk can into a medium saucepan, cover with water and bring to the boil over medium-high heat. Reduce heat and gently boil, regularly topping up with boiling water to ensure that the can is always covered with water, for 3 hours. Carefully remove can from pan. Cool (do not open) and refrigerate overnight.
Step 2 Grease a rectangular 33.5cm long x11.5cm wide x 2.5cm deep tart pan*. Process biscuits in a food processor until fine crumbs form. Add butter and process until well combined. Press mixture over base and side of tart pan. Cover and refrigerate overnight.
Step 3 Just before serving; spoon caramel into the tart base, gently spread and smooth top. Slice bananas and arrange over filling. Lightly sprinkle bananas with sea salt. Drizzle with chocolate. Serve with whipped cream.
*Alternatively use a 22-23cm round pie dish.
Good for you ...
Bananas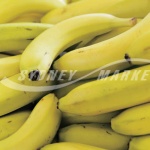 A good source of vitamins B6 and folate. Vitamin B6 is needed for the body's nervous system and folate is important for making red blood cells. A source of antioxidant vitamins E and C (vitamin C also helps protect us against infection). A good source of dietary fibre and also provides potassium.