Balsamic red onion & lamb salad
Balsamic red onion & lamb salad
Prep 30 mins | Cook 30 mins | Serves 4
3 medium red onions, thinly sliced
2 garlic cloves, finely chopped
1⁄4 cup caramelized balsamic vinegar
21⁄2 tbs olive oil
450g lamb sirloins (or use boneless lamb cut of choice)
4 vine-ripened tomatoes, sliced
100g baby salad leaves
Extra virgin olive oil, for drizzling, to serve
Step 1 To make balsamic onions, combine onions, garlic, balsamic vinegar and 1 tbs oil in a bowl. Season with salt and pepper to taste. Toss to combine. Set aside for 15 minutes. Heat a non-stick frying pan over medium heat. Add 1 tbs oil and heat until hot. Add onion mixture and cook, stirring occasionally, for 15-20 minutes until soft and golden. Set aside to cool slightly.
Step 2 Spray lamb with oil and season with salt and pepper. Heat a greased barbecue plate or non-stick frying pan over medium-high heat. Add lamb and cook, for 8-10 minutes (for medium-rare sirloins), turning occasionally, until sealed and almost cooked through. Transfer to a plate, cover with foil and set aside to rest for 5 minutes.
Step 3 Thinly slice lamb. Arrange salad greens, tomatoes and lamb on serving plates. Top with balsamic onions, lightly drizzle with extra virgin olive oil and serve.
Good for you ...
Red Onions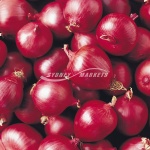 A good source of vitamin C which contributes to formation of collagen in the structure of bones, cartilage, teeth, gums and skin.
A good source of folate, a B vitamin that is needed for normal formation of blood cells.
Provide beta carotene which is converted to vitamin A in the body and assists the functioning of the immune system.