Balsamic apricots & turkey salad
Balsamic apricots & turkey salad
Prep 20 mins | Serves 4
You can make the balsamic apricots 2–3 days in advance and store in an airtight container in the fridge. Serve at room temperature.
1 tbs olive oil
1 small red onion, finely chopped
1⁄3 cup cranberry sauce
3 tsp caramelised balsamic vinegar*
500g apricots, quartered
600g piece oven-roasted turkey breast, thinly sliced
100g mixed salad leaves
Crusty bread, to serve
*Syrupy and sweet, caramelised balsamic vinegar is available from delis and supermarkets. You can use traditional balsamic vinegar if preferred, and sweeten with a little sugar to taste.
Step 1 To make balsamic apricots, heat oil in a medium non-stick frying pan over medium heat. Add onion and cook, stirring often, for 5 minutes. Stir in cranberry sauce and balsamic vinegar. Add apricots and cook, stirring often, for 2–3 minutes until warm. Season with salt and pepper to taste. Remove from heat.
Step 2 Arrange balsamic apricots, turkey and salad leaves on a serving platter or plates and serve with crusty bread.
Good for you ...
Apricots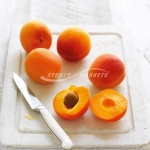 A source of dietary fibre, which is important to maintain the normal function of the intestine.
The deeper the colour of an apricot, the higher its content of beta carotene (which the body converts to vitamin A). Vitamin A is needed for normal vision.
A good source of vitamin C, which helps the body absorb iron.