Baby fennel, bean & BBQ chicken salad
Baby fennel, bean & BBQ chicken salad
Prep 20 mins | Cook 2 mins | Serves 4
2 bulbs baby fennel, trimmed
250g green beans, trimmed and halved diagonally
1 tbs extra virgin olive oil
1 tbs lemon juice
1 barbecued chicken, skin and bones removed and flesh shredded
½ small red onion, halved and very thinly sliced
1/3 cup toasted pine nuts
¼ cup toasted pepitas
125g marinated feta cheese
Step 1 Using a V-slicer or sharp knife, very finely slice fennel. Place into a large bowl. Drizzle with the oil and lemon juice and toss to combine. Set aside for 10 minutes.
Step 2 Meanwhile, bring a medium saucepan of water to the boil. Plunge beans into the pan, cover and bring back to the boil. Boil for 1 minute then drain and rinse in cold water. Set aside to dry.
Step 3 Add beans, chicken, onion, pine nuts, pepitas and feta to fennel mixture. Season with pepper to taste. Toss to combine. Arrange on a serving platter and serve.
Good for you ...
Baby Fennel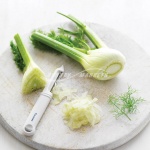 A good source of dietary fibre, which helps the intestine function normally and also vitamin C, a vitamin that contributes to the function of the body's normal immune system.
Has virtually no fat and few kilojoules so is a useful food for those trying to control weight.
A source of potassium.