Baby cucumber, avocado & chicken salad with lime miso dressing
Baby cucumber, avocado & chicken salad with lime miso dressing
Preparation 20 mins + chilling time | Cooking 10 mins + standing time | Serves 4
3 (about 750g) free-range chicken breast fillets, trimmed
3 cups salt reduced chicken stock
250g pkt (2 microwave cups) super grains or brown rice
100g baby spinach leaves
400g baby cucumbers, cut lengthways into wedges
2 just-ripe avocados, halved, deseeded and thickly sliced lengthways
Black sesame seeds, red radish micro herbs and pickled ginger, to serve
Lime miso dressing:
2 tbs Shiro miso paste
1/3 cup lime juice
1 tbs sesame oil
1 tbs maple syrup
Step 1 Place chicken into a deep saucepan. Pour over stock. Cover and bring to the boil over medium heat. Reduce heat and gently simmer, covered and turning once, for 6 minutes. Turn off the heat and leave the chicken in the pan, covered, for 10 minutes or until just cooked through. Drain and chill chicken.
Step 2 Microwave the rice following packet directions.
Step 3 Meanwhile, to make lime miso dressing, place all ingredients into a bowl. Whisk until smooth and well combined. Season with black pepper to taste.
Step 4 Shred the chicken. Arrange spinach, cucumbers, chicken, avocado and rice in serving bowls. Drizzle with the lime miso dressing. Sprinkle with black sesame seeds and red radish micro-herbs. Serve with pickled ginger.
Good for you ...
Avocados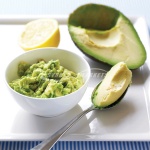 Avocados are one of the few fruits that contain fat, but it's in the form of unsaturated fat.
A source of vitamin E, a vitamin that helps protect cells from damage due to free radicals.
A good source of vitamin C and also a source of folate (a B vitamin). Both these vitamins contribute to the normal functioning of the body's immune system.
Provides the B vitamins niacin (B3) and biotin, which both contribute to normal production of energy in the body.