Baby bok choy & roast pork in five-spice broth
Baby bok choy & roast pork in five-spice broth
Prep 25 mins | Cook 40 mins | Serves 4
2 tbs hoi sin sauce
1 tsp sesame oil
350g pork fillet, trimmed
1 tbs peanut oil
2 garlic cloves, crushed
3cm piece ginger, thickly sliced
1⁄4 tsp Chinese five-spice powder
4 cups chicken stock
250g baby bok choy, quartered lengthways
2 green onions (shallots), trimmed and finely sliced
450g fresh thin hokkien noodles
Coriander leaves and sliced small red chillies, to serve
STEP 1 Preheat oven to 200°C/180°C fan-forced. Combine hoi sin sauce and sesame oil in a bowl. Place pork on a baking tray lined with baking paper. Brush pork with hoi sin mixture. Roast pork for 20-25 minutes, turning occasionally, until just cooked through. Transfer to a plate. Cover and set aside.
STEP 2 Heat oil in a large saucepan. Add garlic, ginger and five-spice powder. Cook for 1 minute. Stir in stock. Cover and bring to the boil. Reduce heat, cover and simmer for 5 minutes. Using tongs, remove ginger. Add bok choy and green onions to broth. Cook for 1-2 minutes until bok choy just wilts.
STEP 3 Meanwhile, place noodles into a heatproof bowl. Cover noodles with boiling water. Stand for 1-2 minutes until just tender. Thinly slice pork. Drain noodles and arrange in serving bowls. Top noodles with bok choy and pork. Ladle over hot broth. Top with coriander leaves and sliced chillies and serve.
Good for you ...
Bok choy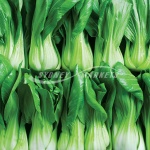 Bok choy is a good source of vitamin C. This vitamin helps the normal functioning of the body's immune system.
Bok choy provides us with some calcium (important for strong bones) and also iron (used to make red blood cells)
The darker leaves of bok choy provide beta carotene, which the body converts to vitamin A. This vitamin helps the body's immune system defend itself against infection and is also important for normal vision.
Bok choy is also a source of the folate, a B vitamin needed for normal formation of blood cells as well as growth and development in children.