Avocado, prawn, mint & coriander rice paper rolls
Avocado, prawn, mint & coriander rice paper rolls
Prep 40 mins | Makes 12
75g dried vermicelli noodles
12 x 22cm rice paper wrappers
1 cup coriander leaves
12 cooked king prawns, peeled, deveined and halved lengthways
1 cup mint leaves
1 large ripe avocado, halved lengthways, deseeded and thinly sliced
2 small Lebanese cucumbers, halved lengthways, seeds removed and cut into long thin strips
1 carrot, peeled and shredded lengthways
Sweet chilli dipping sauce:
1/3 cup sweet chilli sauce
1 tbs rice wine vinegar
1 tsp reduced salt soy sauce
Step 1 Place noodles into a heatproof bowl. Cover with boiling water. Set aside to soak for 2-3 minutes until tender. Refresh in cold water. Drain well and using scissors, roughly chop. Set aside.
Step 2 Preparing one roll at a time, dip a rice paper wrapper into a shallow dish of warm water for 20 seconds to soften. Place onto a clean, damp cloth and scatter a few coriander leaves in the centre. Top with 2 prawn halves, mint leaves, avocado, cucumber, carrot and noodles. Fold wrapper over filling, tuck in one end and roll up to enclose the filling. Place onto a plate, cover with damp paper towel. Repeat using remaining ingredients to make 12 rolls.
Step 3 To make the sweet chilli dipping sauce, combine all ingredients in a small bowl. Serve with the rice paper rolls.
Good for you ...
Lebanese Cucumber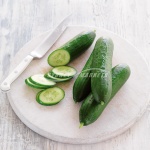 A good source of vitamin C. One of the many functions of vitamin C is the normal formation of collagen which is important for healthy teeth, gums and skin.