Avocado, prawn & coriander rice paper rolls
Avocado, prawn & coriander rice paper rolls
Prep 30 mins | Cook 2 mins | Serves 12
Add mint leaves to the rolls for extra flavour.
50g dried vermicelli noodles
12 x 22cm rice paper wrappers
1 cup coriander leaves
12 cooked king prawns, peeled, deveined and halved lengthways
1 large ripe avocado, halved lengthways, peeled and thinly sliced
1⁄2 cup sweet chilli sauce
6 small iceberg lettuce leaves, halved and trimmed
Peanut sweet chilli dipping sauce
1⁄3 cup roasted unsalted peanuts, chopped
1⁄3 cup sweet chilli sauce
Step 1 Cook noodles in a saucepan of boiling water for 2 minutes or until tender. Drain, rinse in cold water. Using kitchen scissors, roughly chop noodles. Set aside.
Step 2 Preparing one roll at a time, dip rice paper wrappers in a shallow dish of warm water. Place on a clean board. Place a coriander leaf in the centre of the wrapper. Top with 2 prawn halves, a slice of avocado and a heaped tablespoon of noodles. Drizzle with 1 tsp sweet chilli sauce. Top with half a lettuce leaf. Fold wrapper over filling, tuck in sides and roll up to enclose filling. Place on a plate, cover with damp paper towel. Repeat using remaining ingredients to make 12 rolls.
Step 3 To make dipping sauce, combine peanuts and sweet chilli sauce in a bowl. Serve rolls with sauce.
Good for you ...
Avocados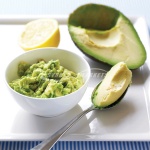 Avocados are one of the few fruits that contain fat, but it's in the form of unsaturated fat.
A source of vitamin E, a vitamin that helps protect cells from damage due to free radicals.
A good source of vitamin C and also a source of folate (a B vitamin). Both these vitamins contribute to the normal functioning of the body's immune system.
Provides the B vitamins niacin (B3) and biotin, which both contribute to normal production of energy in the body.