Avocado, lime & chicken tacos
Avocado, lime & chicken tacos
Prep 20 mins | Cook 5 mins | Serves 4
For ease, use the flesh from a take-away barbecued chicken.
8 taco shells
3 cups shredded cooked chicken
1⁄3 cup mayonnaise
1 tbs lime juice
1 ripe avocado, halved lengthways, deseeded and diced
8 butter lettuce leaves
1 Lebanese cucumber, sliced lengthways (using a vegetable peeler)
2 vine-ripened tomatoes, diced
Step 1 Heat tacos following packet directions. Meanwhile, combine chicken, mayonnaise and lime juice in a bowl. Season with salt and pepper to taste. Stir to combine. Gently toss through avocado.
Step 2 Line tacos with butter lettuce leaves and cucumber. Fill with chicken mixture. Serve with diced tomatoes.
Good for you ...
Avocados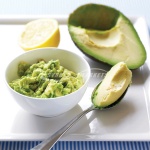 Avocados are one of the few fruits that contain fat, but it's in the form of unsaturated fat.
A source of vitamin E, a vitamin that helps protect cells from damage due to free radicals.
A good source of vitamin C and also a source of folate (a B vitamin). Both these vitamins contribute to the normal functioning of the body's immune system.
Provides the B vitamins niacin (B3) and biotin, which both contribute to normal production of energy in the body.