Avocado, herb & chicken finger sandwiches
Avocado, herb & chicken finger sandwiches
Prep 30 mins | Makes 15
These finger sandwiches are perfect for afternoon tea and special celebrations.For ease, use the flesh from a take-away barbecued chicken.
3 cups shredded cooked chicken
1 stick celery, finely diced
1⁄3 cup flat-leaf parsley, finely chopped
1⁄4 cup dill, finely chopped
1 tbs lemon juice
1⁄3 cup whole egg mayonnaise
1⁄4 cup Greek-style yoghurt
1 ripe avocado, peeled and halved
10 slices sourdough or wholemeal bread
Step 1 Combine chicken, celery, parsley, dill, 3 tsps lemon juice, mayonnaise and yoghurt in a bowl. Season with salt and pepper. Mix to combine.
Step 2 Place avocado in a small bowl. Add remaining 1 tsp lemon juice and season with salt and pepper. Mash with a fork until smooth.
Step 3 Place bread onto a large board. Lightly spread with avocado. Spoon chicken mixture onto 5 slices. Top with remaining bread. Using a sharp knife, remove crusts, and cut each sandwich into 3 fingers. Arrange on a serving platter and serve.
Good for you ...
Avocados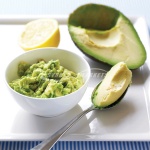 Avocados are one of the few fruits that contain fat, but it's in the form of unsaturated fat.
A source of vitamin E, a vitamin that helps protect cells from damage due to free radicals.
A good source of vitamin C and also a source of folate (a B vitamin). Both these vitamins contribute to the normal functioning of the body's immune system.
Provides the B vitamins niacin (B3) and biotin, which both contribute to normal production of energy in the body.