Avocado, cherry, turkey & lettuce wraps
Avocado, cherry, turkey & lettuce wraps
Prep 15 mins | Makes 2
1 small ripe avocado
2 tsp lemon or lime juice
125g sliced turkey breast, roughly chopped
8 cherries, halved and pitted
2 tbs cranberry sauce
2 whole wheat wraps
2 Iceberg lettuce leaves
Step 1 Using a fork, roughly mash avocado in a small bowl with the lemon or lime juice. Combine turkey, cherries and cranberry sauce in a bowl.
Step 2 Place wraps onto a board. Top each with a lettuce leaf then pile the centre with mashed avocado and the turkey mixture. Roll up, cut in half and serve.
Good for you ...
Cherries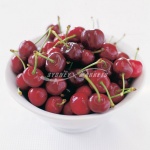 A good source of vitamin C. Among its many functions, vitamin C contributes to collagen which plays a role in healthy gums, teeth, bones, cartilage and skin.
Provide dietary fibre which helps the normal functioning of the intestine.
Cherries contain some antioxidants with the highest quantities found in fruit with darker-coloured flesh