Avocado, baby spinach & prawn salad
Avocado, baby spinach & prawn salad
Prep 30 mins | Serves 4
2 medium just-ripe avocados
1⁄4 cup lime juice
80g baby spinach leaves
24 cooked king prawns, peeled and deveined
1 tbs finely chopped chives
2 green onions (shallots), trimmed and sliced
Extra virgin olive oil, for drizzling
Crusty baguette bread and aioli or mayonnaise, to serve
Step 1 Halve avocados lengthways, peel and deseed. Cut lengthways into 1cm-thick slices. Sprinkle avocado with lime juice to coat.
Step 2 Arrange spinach, prawns and avocados on a serving platter. Sprinkle with chives and green onions. Season with salt and pepper.Drizzle with extra virgin olive oil to taste. Serve with crusty baguette bread and aioli or mayonnaise.
Good for you ...
Avocados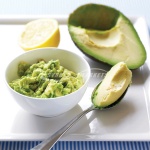 Avocados are one of the few fruits that contain fat, but it's in the form of unsaturated fat.
A source of vitamin E, a vitamin that helps protect cells from damage due to free radicals.
A good source of vitamin C and also a source of folate (a B vitamin). Both these vitamins contribute to the normal functioning of the body's immune system.
Provides the B vitamins niacin (B3) and biotin, which both contribute to normal production of energy in the body.