Avocado & tomato salsa fish tortillas
Avocado & tomato salsa fish tortillas
Prep 20 mins | Cook 5 mins | Serves 8
1 large ripe avocado
1 tbs lime juice
8 high fibre tortillas
35g pkt crispy chicken spice mix (Old El Paso brand)
400g boneless white fish fillets, cut into thin strips
2 tbs rice bran oil or vegetable oil
1⁄2 small iceberg lettuce, shredded
Tomato salsa:
200g grape kumatoes or cherry tomatoes, quartered
1⁄3 cup taco sauce
1⁄4 cup coriander leaves, finely chopped
Step 1 To make tomato salsa, combine all ingredients in a bowl. Season with salt and pepper to taste. Stir to combine. Set aside.
Step 2 Peel and chop avocado flesh. Place into a bowl and add lime juice. Roughly mash with a fork. Set aside.
Step 3 Heat the tortillas following packet directions.
Step 4 Place spice mix into a large plastic bag. Add fish and toss to coat in mixture. Heat oil in a large non-stick frying pan over medium heat. Pan-fry fish for 1-2 minutes on each side until golden and cooked through. Drain on paper towel. Serve fish with tortillas, tomato salsa, avocado and shredded lettuce.
Good for you ...
Avocados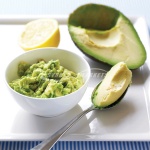 Avocados are one of the few fruits that contain fat, but it's in the form of unsaturated fat.
A source of vitamin E, a vitamin that helps protect cells from damage due to free radicals.
A good source of vitamin C and also a source of folate (a B vitamin). Both these vitamins contribute to the normal functioning of the body's immune system.
Provides the B vitamins niacin (B3) and biotin, which both contribute to normal production of energy in the body.