Avocado & spinach hummus with veggie dippers
Avocado & spinach hummus with veggie dippers
Preparation 15 mins | Makes 2 cups
400g can chickpeas, drained and rinsed
1 medium ripe avocado, peeled and seed removed
40g baby spinach leaves
¼ cup lemon juice
1/3 extra virgin olive oil
1 tbs water
1 garlic clove, finely minced
1 tbs tahini
To serve:
peeled Dutch carrots, Lebanese cucumber and celery sticks and natural corn chips
Step 1 To make avocado & spinach hummus, place chickpeas, avocado, spinach, lemon juice, oil, water, garlic and tahini into a food processer. Season with salt and pepper. Process until smooth and well combined. Spoon into a serving bowl.
Step 2 Serve the dip with Dutch carrots, sliced cucumber, celery sticks and natural corn chips.
Good for you ...
Avocados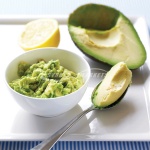 Avocados are one of the few fruits that contain fat, but it's in the form of unsaturated fat.
A source of vitamin E, a vitamin that helps protect cells from damage due to free radicals.
A good source of vitamin C and also a source of folate (a B vitamin). Both these vitamins contribute to the normal functioning of the body's immune system.
Provides the B vitamins niacin (B3) and biotin, which both contribute to normal production of energy in the body.