Avocado & banana 'spinach smuggler' smoothie
Avocado & banana 'spinach smuggler' smoothie
Prep 5 mins | Makes 2-4
This vibrant smoothie is packed with valuable antioxidants and tastes great!
2 frozen bananas
1 medium ripe avocado, peeled, halved lengthways and seed removed
50g baby spinach leaves
2 tsp white chia seeds
1½ cups sweetened almond milk
1 tbs honey
Blueberries, to serve
Step 1 Chop bananas and place into a blender. Scoop avocado flesh into the blender. Add spinach, chia seeds, almond milk and honey. Blend until thick and smooth (add extra almond milk if too thick).
Step 2 Pour into serving glasses. Sprinkle each with a few blueberries and serve.
Good for you ...
Bananas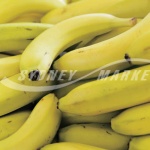 A good source of vitamins B6 and folate. Vitamin B6 is needed for the body's nervous system and folate is important for making red blood cells. A source of antioxidant vitamins E and C (vitamin C also helps protect us against infection). A good source of dietary fibre and also provides potassium.