Asparagus, tomato & haloumi salad
Asparagus, tomato & haloumi salad
Prep 20 mins | Cook 8 mins | Serves 4
2 tbs olive oil
12-15 stems thick asparagus, trimmed
250g haloumi, cut into 1cm-thick slices
250g mini roma tomatoes, halved lengthways
½ small red onion, finely shaved
Green herb dressing:
1 cup flat-leaf parsley leaves
1 cup mint leaves
1 tbs lemon juice
1 tsp finely grated lemon rind
1/3 cup extra virgin olive oil
Step 1 To make the green herb dressing, combine all ingredients in a small food processor. Season with salt and pepper. Process until finely chopped. Set aside.
Step 2 Heat 1 tbs oil a large frying pan over medium-high heat. Add asparagus and cook, turning occasionally, for 3-4 minutes until just tender. Transfer to a serving plate.
Step 3 Add remaining 1 tbs oil to the pan and heat over medium-high heat until hot. Add haloumi and cook for 1 minute on each side until just golden and hot. Halve asparagus lengthways. Arrange asparagus, haloumi, tomatoes and onion on a serving platter. Drizzle with the green herb dressing.
Good for you ...
Asparagus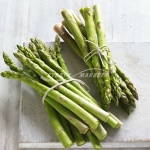 One of the best sources of natural folate. This B complex vitamin is important throughout life for normal function of the immune system. A source of vitamin C which contributes to protecting body cells from damage from free radicals.