Asparagus, rocket & smoked salmon salad
Asparagus, rocket & smoked salmon salad
Prep 20 mins | Serves 4 as a light meal or starter
1 bunch large asparagus, trimmed
75g baby or wild rocket leaves
3 radishes, trimmed and very thinly sliced
250g sliced smoked salmon
Char-grilled sourdough bread
Lemon & herb dressing
¼ cup extra-virgin olive oil
1½ tbs lemon juice
1 tbs finely chopped chives
1 tbs finely chopped dill leaves
Step 1 Using a vegetable peeler, slice asparagus lengthways into thin ribbons. Arrange the asparagus, rocket, radishes and smoked salmon on a serving platter.
Step 2 To make dressing, combine all ingredients in a screw-top jar. Season with salt and pepper to taste. Shake until well combined. Drizzle dressing over salad, gently toss and serve with char-grilled bread.
Good for you ...
Asparagus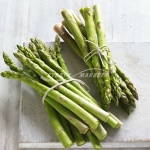 One of the best sources of natural folate. This B complex vitamin is important throughout life for normal function of the immune system. A source of vitamin C which contributes to protecting body cells from damage from free radicals.