Asparagus, crab and lemon risotto
Asparagus, crab and lemon risotto
Prep 15 mins | Cook 20 mins | Serves 4
4 cups fish or chicken stock
2 tbs olive oil
2 garlic cloves, finely chopped
1 brown onion, finely chopped
2 cups Arborio rice*
1⁄2 cup dry white wine
2 bunches asparagus, trimmed and cut into 2cm lengths
140g tub fresh crabmeat**, drained
1 lemon, juiced and rind finely grated
1⁄2 cup finely grated parmesan + extra to serve
*Arborio rice is short-grain rice ideal for risotto. It's available from some greengrocers and most supermarkets.
**Fresh crabmeat is available in the fridge section in major supermarkets and seafood shops, use drained canned crabmeat if preferred.
Step 1 Bring stock to the boil in a saucepan over medium-high heat. Meanwhile, heat oil in a large saucepan over medium heat. Add garlic and onion and cook, stirring often, for 3–4 minutes or until onion is tender. Add rice to pan and stir to coat in oil. Cook, stirring constantly, for 1–2 minutes or until rice starts to become transparent. Add wine and simmer until wine has almost evaporated.
Step 2 Gradually add small ladlefuls of the boiling stock to rice, stirring constantly after each addition until liquid is absorbed. Add asparagus to pan when half the stock has been added to rice. Stir in crabmeat with the last ladleful of stock (at this stage the rice should be just tender).
Step 3 Remove from heat and season with salt and pepper to taste. Stir in lemon juice and rind and parmesan. Serve with extra grated parmesan.
Good for you ...
Green Asparagus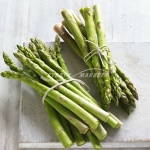 One of the best sources of natural folate. This B complex vitamin is important throughout life for normal function of the immune system. A source of vitamin C which contributes to protecting body cells from damage from free radicals.