Asparagus & ham cheese munchies
Asparagus & ham cheese munchies
Prep 20 mins | Cook 15 mins | Serves 4 as a snack
These tender asparagus munchies are ideal for an after-school snack or parties.
8 thick asparagus spears (about 2 bunches), trimmed
8 thin slices ham
1 cup reduced fat grated mozzarella cheese
Step 1 Preheat oven to 200°C fan-forced. Bring a frying pan of water to the boil over high heat. Plunge asparagus into pan and cook for 2 minutes until vibrant. Drain, refresh in cold water and set aside to drain. Pat dry with paper towel.
Step 2 Wrap a slice of ham around each asparagus spear. Place in a single layer on a baking tray lined with baking paper. Sprinkle each with cheese. Bake for 10-12 minutes or until cheese is golden and bubbling. Cool for 5 minutes and serve.
Good for you ...
Asparagus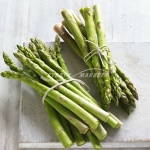 One of the best sources of natural folate. This B complex vitamin is important throughout life for normal function of the immune system. A source of vitamin C which contributes to protecting body cells from damage from free radicals.