Asian-style sticky mushrooms
Asian-style sticky mushrooms
Prep 15 mins | Cook 15 mins | Serves 4 as a side dish
These tasty mushrooms are delicious served with brown rice for a light 'meatless' main meal.
1⁄4 cup brown sugar
2 garlic cloves, finely chopped
1 tbs hoi sin sauce
2 tbs oyster sauce
2 tbs orange juice
2 star anise
600g mixed large mushrooms*
Coriander leaves, to serve
*Use a mix of Portabello flats, large cups and large oyster mushrooms
Step 1 Preheat oven to 200°C/180°C fan-forced. Line the base of a large heavy-based roasting pan with baking paper.
Step 2 Combine brown sugar, garlic, sauces, orange juice and star anise in a large bowl.
Step 3 Cut mushrooms into about 5-6cm pieces. Add to brown sugar mixture. Gently toss to combine. Spoon mushroom mixture into roasting pan. Roast, turning once, for 15-20 minutes until glossy and just tender. Top with coriander leaves and serve.
Good for you ...
Flat Mushrooms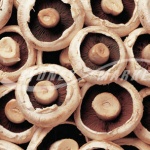 Fresh mushrooms differ from vegetables in that they supply mainly B group vitamins rather than contributing vitamin C and carotenoids (which are converted in the body to vitamin A)
They are a source of riboflavin (vitamin B2) and niacin, both of which contribute to the normal release of energy from food. They are also a source of the B vitamins pantothenic acid and biotin which both contribute to normal metabolism of fat.
A source of selenium, a mineral which contributes to the maintenance of hair and nails and the way the body uses iodine in its production of thyroid hormones.