Asian snake bean, herb & chilli salad
Asian snake bean, herb & chilli salad
Prep 20 mins | Cook 5 mins | Serves 4 as a side dish
This delicious salad is excellent served with barbecued fish or chicken.
1 bunch snake beans, trimmed and cut into 5-6cm pieces
150g snow peas, trimmed and halved lengthways
1 cup coriander sprigs
1⁄2 cup small Thai basil leaves
3⁄4 cup mint leaves, torn
1 long red chilli, thinly sliced
50g baby Asian salad greens
1-2 tbs fried shallots, to serve
Chilli dressing
1 tbs liquid palm sugar or brown sugar
2 tsp fish sauce
2 tbs lime juice
2 tbs grape seed or rice bran oil
2 red bird's eye chillies, deseeded and finely chopped
Step 1 Bring a saucepan of water to the boil over medium-high heat. Add snake beans, bring to the boil and cook for 2 minutes. Add snow peas and cook for 1 minute until bright green. Drain and rinse in cold water. Pat dry with paper towel.
Step 2 In a large bowl, combine snake beans, snow peas, coriander, thai basil, mint, long red chilli and salad greens.
Step 3 To make dressing, combine all ingredients in a screw-top jar. Shake until well combined. Drizzle dressing over the salad. Gently toss to combine and serve with fried shallots.
Good for you ...
Snake Beans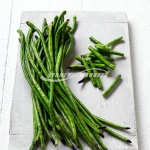 Provide some iron, which is especially useful for choose a vegetarian diet. Iron is needed for making red blood cells, which carry oxygen throughout the body. The vitamin C in beans also helps the absorption of iron.
Beans are also a good source of folate, one of the B vitamins that is important for growth and development in children and for normal blood formation at all ages.