Asian mushroom, kale & tofu miso ramen
Asian mushroom, kale & tofu miso ramen
Prep 15 mins | Cook 10 mins | Serves 4
270g pkt dried ramen noodles*
1 tbs grape seed or rice bran oil
2 garlic cloves, finely chopped
4 green onions (shallots), trimmed and sliced + extra to serve
1 long red chilli, halved lengthways, deseeded and thinly sliced
¼ cup miso paste
4 cups chicken or vegetable stock
300g mixed Asian mushrooms**, slice larger mushrooms
3 stems kale (about 100g), trimmed and roughly shredded
300g firm tofu, drained and cut into cubes
Shiso micro-herbs, to serve (optional)
*Ramen noodles – are available in Asian food shops and some supermarkets. Use egg noodles or soba noodles if preferred.
** Exotic mushrooms include shiitake, oyster, shemeji and enoki.
Step 1 Cook the noodles following packet directions. Drain and set aside. Wipe pan dry.
Step 2 Heat oil in the large saucepan over medium heat. Add garlic, green onions and chilli. Cook, stirring, for 1 minute. Add miso paste and cook for a few seconds. Stir in stock, cover and bring to the boil.
Step 3 Add mushrooms, kale and tofu. Cover and simmer for 2- 3 minutes until kale wilts and mushrooms are just tender. Divide noodles among 4 serving bowls. Ladle broth mixture over noodles. Top with extra sliced green onions and micro-herbs (if using) and serve.
Good for you ...
King Brown Mushrooms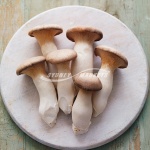 Fresh mushrooms differ from vegetables in that they supply mainly B group vitamins rather than contributing vitamin C and carotenoids (which are converted in the body to vitamin A)
They are a source of riboflavin (vitamin B2) and niacin, both of which contribute to the normal release of energy from food. They are also a source of the B vitamins pantothenic acid and biotin which both contribute to normal metabolism of fat.
A source of selenium, a mineral which contributes to the maintenance of hair and nails and the way the body uses iodine in its production of thyroid hormones.