Asian mango, pork & coriander noodle salad
Asian mango, pork & coriander noodle salad
Prep 30 mins | Cook 15 mins | Serves 4
400g pork fillet, trimmed
Olive oil cooking spray
250g dried Thai-style (Pad Thai) rice noodles
1 large ripe mango
1⁄2 small red onion, very thinly sliced
2 long red chillies, halved lengthways, deseeded and sliced
1⁄2 cup mint, roughly chopped
1 cup coriander leaves, roughly chopped
1⁄4 cup roasted peanuts
Lime wedges, to serve
Sweet chilli dressing
1⁄3 cup sweet chilli sauce
2 tbs lime juice
1 tbs fish sauce
Step 1 Spray pork with oil and season with salt and pepper. Preheat a greased char-grill or non-stick frying pan over medium heat. Cook pork, turning occasionally, for 12-15 minutes (depending on thickness) until just cooked through. Transfer to a plate, cover and set aside.
Step 2 Meanwhile, place noodles in a large heatproof bowl. Cover with boiling water and stand for 3-5 minutes until just tender. Drain well. Gently separate noodles and place into a large bowl.
Step 3 Peel mango and slice off the mango cheeks. Slice mango flesh lengthways into thin wedges. Add mango, onion, chillies, mint, coriander and peanuts to noodles. Thinly slice pork and add to salad.
Step 4 Combine dressing ingredients in a bowl and mix until well combined. Drizzle dressing over salad, gently toss to combine and serve with lime wedges.
Good for you ...
Mangoes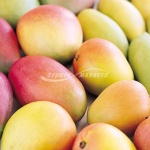 A very good source of vitamin C which contributes to the normal functioning of the body's immune system.
A good source of beta carotene, which the body converts to vitamin A. This vitamin is needed for normal vision. The deeper the colour of the mango flesh, the higher the level of beta carotene. Mango flesh also provides another carotenoid called cryptoxanthin which is being researched for its role in normal eye health.
A source of dietary fibre which is important for the normal function of the intestine.