Apricots with brown sugar yoghurt & panettone
Apricots with brown sugar yoghurt & panettone
Prep 15 mins | Cook 10 mins | Serves 4
3⁄4 cup thick Greek style natural yoghurt
2 tbs brown sugar
1⁄4 cup caster sugar
8 plump ripe apricots, halved and stones removed
4 slices panettone* crusts removed and cut into triangles
*Panettone is a spiced yeast bread containing sultanas and candied peel, it's sold in supermarkets. If preferred, use raisin or fruit bread.
Step 1 To make brown sugar yoghurt, place yoghurt and brown sugar in a bowl. Stir to combine. Set aside for 10 minutes./p>
Step 2 Heat a large heavy-based frying pan over medium-high heat. Place caster sugar on a plate. Dip cut side of apricots into sugar to evenly coat surface. Place apricots, sugar-coated side down, into pan and cook for 3-4 minutes or until apricots begin to caramelise. Turn apricots and cook for 2-3 minutes until tender.
Step 3 Toast panettone until golden. Arrange apricots on a serving platter or plates. Serve with panetonne and brown sugar yoghurt.
Good for you ...
Apricots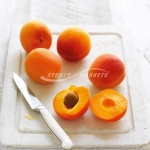 A source of dietary fibre, which is important to maintain the normal function of the intestine.
The deeper the colour of an apricot, the higher its content of beta carotene (which the body converts to vitamin A). Vitamin A is needed for normal vision.
A good source of vitamin C, which helps the body absorb iron.