Apricot & almond upside-down cake
Apricot & almond upside-down cake
Prep 25 mins | Cook 50 mins | Serves 6-8
200g butter, at room temperature
½ cup firmly-packed brown sugar
500g just-ripe apricots, halved, stones removed and each half cut into 3 wedges
1 cup caster sugar
1 tsp vanilla extract
3 free-range eggs, at room temperature
1½ cups self-raising flour, sifted
½ cup ground almonds (almond meal)
Reduced fat ice-cream or Greek-style natural yoghurt, to serve
Step 1 Preheat oven to 180°C/160°C fan-forced. Line base and sides of a 22cm non-stick round cake pan with baking paper.
Step 2 Melt 75g butter and drizzle over base of the pan. Evenly sprinkle with brown sugar. Arrange apricots, skin-side down, in the base of the pan. Set aside.
Step 3 Using electric beaters, beat remaining 125g butter, caster sugar and vanilla on high in a large bowl until pale, thick and creamy. Beat in eggs, one at a time, beating well after each addition.
Step 4 Using a large metal spoon, gently fold in the sifted flour and almond meal. Spoon mixture over apricots. Smooth the top. Bake for 45-50 minutes or until a skewer inserted in the centre of the cake comes out clean. Cool in pan for 10 minutes then invert cake onto a serving plate to cool. Serve with ice-cream or yoghurt.
Good for you ...
Apricots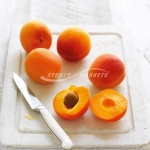 A source of dietary fibre, which is important to maintain the normal function of the intestine.
The deeper the colour of an apricot, the higher its content of beta carotene (which the body converts to vitamin A). Vitamin A is needed for normal vision.
A good source of vitamin C, which helps the body absorb iron.