Apple, spinach & mint green smoothie
Apple, spinach & mint green smoothie
Prep 5 mins | Serves 2
This nutrient-rich green smoothie is great for detoxing your body. Coconut water is available from some greengrocers and most supermarkets.
1⁄2 cup mint leaves
1 cup coconut water, chilled
1 Granny Smith apple, cored and chopped
1 cup firmly-packed baby spinach leaves
1 lime, juiced
1⁄2 cup ice cubes
Step 1 Place mint and coconut water into a blender. Blend on high until well combined. Add apple, spinach, lime juice and ice cubes. Blend until smooth. Pour into 2 serving glasses and serve.
Good for you ...
English Spinach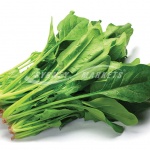 Although the iron in spinach is not well absorbed, its high content of vitamins C, E, beta carotene (converts to vitamin A in the body), niacin (B3), folate, vitamin B6 plus its magnesium and potassium make it one of the most valuable vegetables.
Spinach is rich in an antioxidant called lutein, which is important for eye health.
Spinach is an excellent source of dietary fibre, which keeps the intestine functioning normally.