Apple, carrot & cucumber salad with chicken skewers
Apple, carrot & cucumber salad with chicken skewers
Prep 25 mins | Cook 10 mins | Serves 4
750g chicken thigh fillets, trimmed and sliced
2 tbs olive oil
2 garlic clove, crushed
2 carrots, peeled
2 Lebanese cucumbers
1 Granny Smith apple
1 tbs lemon juice
1 green onion (shallots), trimmed and thinly sliced
1 tbs toasted sesame seeds
steamed jasmine rice, to serve
Orange, soy & honey dressing
¼ cup fresh orange juice (about 1 orange)
1 tbs honey
1 tbs salt reduced soy sauce
1 tsp sesame oil
Step 1 Thread chicken onto 8 metal skewers (or use bamboo skewers that have been soaked in cold water). Combine oil and garlic in a bowl. Brush chicken with mixture.
Step 2 To make dressing, combine all ingredients in a screw-top jar. Shake until well combined. Set aside.
Step 3 Meanwhile, shred carrots and cucumbers lengthways and plunge into a bowl of cold water. Drain and dry, then place into a large bowl. Quarter and thinly slice apple, toss with lemon juice and add to carrot mixture. Add green onion and toss to combine. Arrange in a serving bowl. Sprinkle with sesame seeds.
Step 4 Preheat a greased char-grill or barbecue on medium heat. Add chicken skewers and cook, turning occasionally, for 8-10 minutes until cooked through. Serve chicken skewers with salad and rice.
Good for you ...
Lebanese Cucumber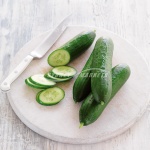 A good source of vitamin C. One of the many functions of vitamin C is the normal formation of collagen which is important for healthy teeth, gums and skin.