Apple, banana & carrot muffins
Apple, banana & carrot muffins
Preparation 10 mins | Cooking 30 mins | Makes 12
1 very ripe banana, peeled
1 apple, unpeeled, coarsely grated
1 carrot, peeled and coarsely grated
½ cup wholegrain rolled oats, plus extra 2 tbs
1 free-range egg
½ cup light in flavour extra virgin olive oil
¾ cup Greek-style natural yoghurt + 1/3 cup extra to serve
1/3 cup caster sugar
1 cup wholemeal self-raising flour
2 tsp baking powder
1 tsp ground cinnamon
6 small strawberries, hulled and halved, to serve
Step 1 Preheat oven to 200°C fan-forced. Line a 12 hole x 1/2-cup capacity muffin pan with muffin wraps or paper cases.
Step 2 Place banana into a mixing bowl. Using a fork, mash until almost smooth. Add apple, carrot, oats, egg, oil, yoghurt and sugar. Whisk with a fork until just combined.
Step 3 Add flour, baking powder and cinnamon to banana mixture. Stir with a fork until just combined (don't over mix). Spoon mixture into prepared pan. Scatter with extra oats. Bake for 25-30 minutes until cooked through when tested with a skewer. Stand in pan for 10 minutes then transfer to a wire rack to cool.
Step 4 Top each muffin with a dollop of yoghurt and a halved strawberry and serve.
Good for you ...
Apples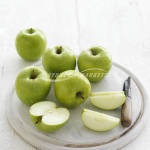 Apples contain a source of dietary fibre and natural sorbitol. Both fibre and sorbitol help keep us regular.
A good source of vitamin C, among its many functions, contributes to healthy gums. Low GI meaning the natural sugars are digested slowly, releasing energy gradually.