How to Make Apple and Walnut Muffins - Sydney Markets
Prep 20 mins | Cook 25 mins | Makes 10
2 cups self-raising flour
1 tsp ground cinnamon
Pinch salt
3⁄4 cup brown sugar
1⁄3 cup walnuts, chopped + 2 tbs extra for sprinkling
2 medium Golden Delicious apples
2 eggs, lightly beaten
100ml buttermilk or milk
150ml rice bran oil or canola oil
STEP 1 Preheat oven to 200°C/180°C fan-forced. Line ten holes of a 1⁄2-cup capacity muffin pan with paper muffin wrappers or paper cases.
STEP 2 Sift flour, cinnamon and salt into a large bowl. Stir in sugar and the 1⁄3 cup walnuts. Peel, core and cut apples into a 1cm dice. Stir apples through mixture.
STEP 3 Whisk eggs, buttermilk or milk and oil in a jug. Using a large metal spoon, stir egg mixture into dry ingredients until just combined. Spoon into prepared pan. Sprinkle with the extra chopped walnuts. Bake for 25-30 minutes until golden and cooked through when tested with a skewer. Cool in pan for 10 minutes then turn onto a wire rack. Serve warm or at room temperature.
Good for you ...
Golden Delicious Apples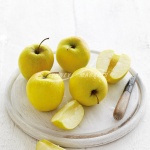 A good source of dietary fibre that helps keep us regular.
Provide vitamin C. Among its many functions, vitamin C contributes to collagen which plays a role in healthy gums, teeth, bones, cartilage and skin.
Low GI (less than 55) which means the natural sugars in apples are slowly digested to glucose