Apple & sultana tarts
Prep 30 mins + cooling time | Cook 60 mins | Makes 10
1.5 kg Granny Smith apples, peeled, cored and chopped
1⁄3 cup caster sugar
1⁄2 tps ground cinnamon
1⁄4 cup sultanas
10 sheets fresh filo pastry
125g butter, melted, for brushing
Icing sugar, for dusting
Vanilla ice-cream or whipped cream, to serve
Step 1 Combine apples, sugar and cinnamon in a large saucepan, cover and bring to the boil over medium-high heat, stirring occasionally. Reduce heat to low and simmer, stirring occasionally, for 20-25 minutes until very tender. Stir in sultanas. Remove from heat and set aside to cool for 30 minutes.
Step 2 Preheat oven to 200°C/180°C fan-forced. Grease 10 holes of a cup capacity muffin pan with melted butter.
Step 3 Place filo sheets onto a clean work surface and cover with a damp tea-towel. Working with 1 filo sheet at a time, brush with butter then fold into quarters, brushing with butter before each fold. Gently ease into muffin pan to form a pastry case. Repeat using remaing filo. Spoon cooled apple in filo cases. Bake for 20-25 minutes until filo is golden. Cool in pan for 15 minutes. Dust with icing sugar and serve with vanilla ice-cream or whipped cream.
Good for you ...
Granny Smith Apples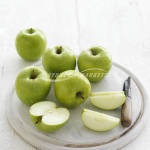 A good source of dietary fibre that helps keep us regular.
Provide vitamin C. Among its many functions, vitamin C contributes to collagen which plays a role in healthy gums, teeth, bones, cartilage and skin.
Low GI (less than 55) which means the natural sugars in apples are slowly digested to glucose.