Apple & rhubarb sponge pudding
Apple & rhubarb sponge pudding
Prep 20 mins | Cook 55 mins | Serves 4
2 medium Golden Delicious apples, peeled, cored and cut into thin wedges
1 bunch rhubarb*, trimmed and sliced into 2cm pieces
¾ cup caster sugar
125g butter, softened (+ extra for greasing)
1 tsp vanilla extract
2 free-range eggs
¾ cup self-raising flour
1 tsp baking powder
icing sugar, to serve
reduced fat vanilla ice-cream, to serve
*You'll need 350g trimmed rhubarb – discard the leaves.
Step 1 Preheat oven to 180°C/160°C fan-forced. Grease a 6-cup (about 5cm deep) shallow baking dish with butter. Place apples and rhubarb into the dish and toss through ¼ cup caster sugar. Set aside.
Step 2 Using electric beaters, beat butter, remaining ½ cup sugar and vanilla together in a large bowl until pale and creamy. Add eggs, one at a time, beating well after each addition.
Step 3 Sift flour and baking powder over mixture. Using a large metal spoon, gently fold mixture until combined. Spoon batter over apples and rhubarb and gently smooth top. Bake for 50–55 minutes (cover loosely with a sheet of foil when top is golden) or until sponge is cooked through. Stand for 10 minutes. Dust with icing sugar and serve with ice-cream.
Good for you ...
Golden Delicious Apples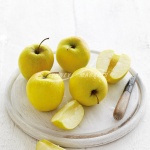 A good source of dietary fibre that helps keep us regular.
Provide vitamin C. Among its many functions, vitamin C contributes to collagen which plays a role in healthy gums, teeth, bones, cartilage and skin.
Low GI (less than 55) which means the natural sugars in apples are slowly digested to glucose