Apple & golden syrup pudding
Apple & golden syrup pudding
Prep 30 mins | Cook 1 hr 10 mins | Serves 6
1 kg Granny Smith apples, peeled, cored, quartered and sliced
2 tbs caster sugar
2 tbs water
1 cup self-raising flour
⅓ cup firmly-packed light brown sugar
⅓ cup milk
1 free-range eggs
75g butter, melted
⅓ cup golden syrup
Sifted icing sugar, to serve
Syrup:
⅓ cup firmly-packed light brown sugar
⅓ cup golden syrup
1¼ cups boiling water
Step 1 Preheat oven to 180°C/160°C fan-forced. Grease a large 8-cup (about 6cm deep) ovenproof dish with butter and place on a baking tray.
Step 2 Place apples into a medium heatproof bowl. Sprinkle with caster sugar and water. Cover and microwave on high for 6–8 minutes or until tender. Cool in bowl for 10 minutes. Drain and arrange apples in prepared dish.
Step 3 Sift flour into a large bowl. Stir in brown sugar. Whisk milk, egg, melted butter and golden syrup in a jug. Add to flour mixture and gently stir to combine. Spoon mixture over apples and smooth surface.
Step 4 To make syrup, evenly sprinkle brown sugar over pudding mixture. Combine golden syrup and boiling water in a heatproof jug. Drizzle mixture over the back of a spoon onto the pudding. Bake for 50–55 minutes or until golden and cooked through (cover lightly with foil once top is deep golden). Set aside for 5 minutes. Dust with icing sugar and serve with ice-cream if desired.
Good for you ...
Granny Smith Apples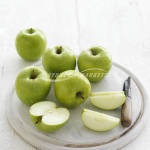 A good source of dietary fibre that helps keep us regular.
Provide vitamin C. Among its many functions, vitamin C contributes to collagen which plays a role in healthy gums, teeth, bones, cartilage and skin.
Low GI (less than 55) which means the natural sugars in apples are slowly digested to glucose.