Apple & cinnamon custard & chocolate sundaes
Apple & cinnamon custard & chocolate sundaes
Prep 20 mins | Cook 20 mins | Serves 4
6 Golden Delicious apples, peeled, cored and chopped
1 cinnamon stick
2 tbs caster sugar
1⁄4 cup water
11⁄2 cups reduced fat vanilla custard
30g bar flaked chocolate, crumbled
Step 1 Place apples in a medium saucepan. Add cinnamon stick, sugar and water. Stir to combine. Cover and bring to the boil over medium heat. Reduce heat and simmer, stirring occasionally, for 12–15 minutes until apples are tender. Remove from heat, remove cinnamon stick and set aside to cool slightly.
Step 2 Layer warm apples, custard and flaked chocolate in 4 x 1 cup serving glasses and serve.
Good for you ...
Golden Delicious Apples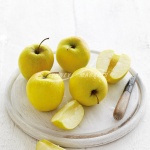 A good source of dietary fibre that helps keep us regular.
Provide vitamin C. Among its many functions, vitamin C contributes to collagen which plays a role in healthy gums, teeth, bones, cartilage and skin.
Low GI (less than 55) which means the natural sugars in apples are slowly digested to glucose