3 cheese cauliflower bake
3 cheese cauliflower bake
Prep 10 mins | Cook 10 mins | Serves 4 as a side dish
Olive oil cooking spray
½ medium cauliflower, trimmed and cut into medium florets*
salt and ground black pepper
100g ricotta cheese, crumbled
1 cup grated reduced fat mozzarella cheese
100g parmesan cheese, grated
*About 700g cauliflower florets
Step 1 Preheat a grill on medium-high heat. Grease a 6-cup shallow baking dish with oil spray.
Step 2 Steam cauliflower in a steamer basket over a saucepan of simmering water for 4–5 minutes or until just tender. Alternatively, place cauliflower in a single layer in a medium shallow microwavesafe dish. Cover with plastic wrap. Microwave on high/100% power for 4–5 minutes or until just tender. Drain.
Step 3 Place hot cauliflower into prepared dish. Season with salt and pepper to taste. Sprinkle evenly with ricotta, mozzarella and parmesan cheeses. Place under a hot grill (top about 5cm from heat source) and grill for 4–5 minutes or until top is golden.
Good for you ...
Cauliflower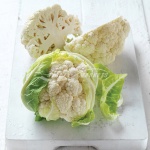 A source of dietary fibre which helps normal functions of the intestine to help keep us regular.
A good source of vitamin K which is one of the many nutrients contributing to normal bone structure.
An excellent source of vitamin C, with 100g supplying well over a full day's requirement. This vitamin contributes to the normal immune function.
A source of folate, a B vitamin that is important for normal blood cells.